Mapping Victoria's Startup Ecosystem report 2017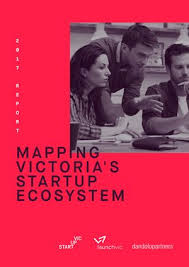 StartupVic | LaunchVic | Dandolo Partners | 28 August, 2017
Victoria is leading the way when it comes to turning startups into high growth companies.
Some of the key highlights from the survey of 1,137 Victorian startups includes:
Victoria has a strong track record with three 'unicorns' (worth $1bn) – more than any other state in Australia.
60% are revenue positive in their first year and almost 80% by year two.
80% of firms provide a digital product or service.
One third report they were/are bootstrapped, including firms in growth and later stages of development.
More than two thirds of startups in Victoria are exporting to key international markets including the US and UK, as well as China and New Zealand.
Victoria has 190 meetup groups specifically focused on startups and entrepreneurship. Startup Victoria is the largest meetup group with over 10,000 members.
Over half of founders are working with mentors and advisors.
The average age of founders is 36 years old (75% male). Females are more likely than males to establish a firm past the age of 45.
Good infographics summarise the important insights, very interesting and easy to read.